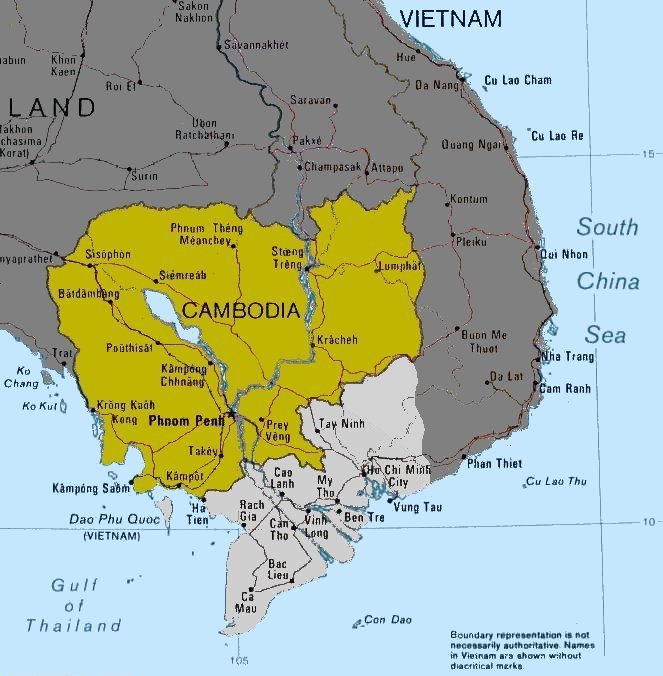 Cambodia's former territory of Kampuchea Krom or Lower [Southern] Cambodia is shown in white [Reproduced].
School of Vice: Rewriting Khmer Krom history is Hanoi's best hope of holding onto its ill-gotten gains in today's 21st century world. Acknowledging the truth of that history would be tantamount to confessing to the reality of the historical crime!
Kevin Ponniah and Vong Sokheng
A day after National Assembly president Heng Samrin assured Vietnamese Prime Minister Nguyen Tan Dung in Hanoi that the government would take strict measures to quell further "extremist" Khmer Krom protests, Foreign Minister Hor Namhong reportedly told demonstration leaders yesterday that the government shared their concerns.
Observers have said the differing statements highlight attempts by the ruling Cambodian People's Party to walk a diplomatic tightrope by distancing itself from widespread ire towards Vietnam, while at the same time avoiding giving offence to the party's historical partner.
According to the leaders of groups invited to a private meeting at Namhong's office yesterday afternoon, the foreign minister asked activists to postpone protests outside the Vietnamese Embassy – which occurred for three consecutive days last week – in order to allow time for a solution to be found.
Namhong said that although the government had passed petitions on to Vietnam on behalf of demonstrators, it was still waiting for a response, the activists said.
But according to Sok Sothea of the Khmer Youth Alliance for Democracy, the minister had also agreed with protesters that Vietnam "could not change history".
Students, monks and Khmer Krom activists have been calling on an embassy spokesman to apologise for saying Vietnam had enjoyed sovereignty over the former Kampuchea Krom provinces in what is now lower Vietnam long before they were ceded by the French in 1949.
Demonstrators burned a flag during a protest outside the embassy last week, earning a swift rebuke from the Vietnamese Foreign Ministry, which called on Phnom Penh to take action to stop the "perverse" behaviour.
Hanoi and its many hired hands will continue to discredit, through literary distortions of historical facts and half-truths, not only the Khmer Krom community's inevitable demand for self-determination and growing nationalism, but also the inherent Cambodian/Khmer nationalism and awakening as such that have been indisputable by-products and borne of Vietnam's wanton territorial ambitions and disregard for the identity and right to existence of smaller neighbouring states

.

In this whitewashing effort, the horrors and atrocities committed during the Lon Nol and Pol Pot eras will always be cited in isolation as concrete evidence of an unacceptable Cambodian nationalist movement and 'extremism' while deliberately or conveniently failing to account for the legitimate factors and forces that have been fueling these feelings over the last three to four hundred years or so

- School of Vice